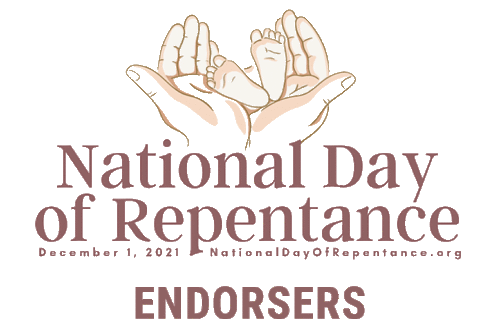 The National and International Day of Repentance and Solemn Assemblies
Regarding Abortion on December 1, 2021
We believe America is at a crossroads and that our time is short. God hates the shedding of innocent blood and the Mississippi abortion case presents us the best opportunity since 1992, to see the reversal of Roe v. Wade.
But we need to pray desperately. The Supreme Court has announced the day of Oral Argument in the Mississippi Ban on Late-Term Abortion Case (D Dobbs) for Wednesday, December 1, 2021.
Will you partner with us in helping to organize and call for a National Day of Repentance and Solemn Assemblies where we humble ourselves, pray, seek His face, and turn from our wicked ways on the day of Oral Argument for this case?
We will be having a 40-hour Broadcast of events live in DC and prayer from around the world. We must also have physical assemblies, perhaps in front of the Supreme Court, on the National Mall, in front of abortion clinics, and in churches across the nation. We believe we should be praying the day before, the day of, and the day after Oral Argument.
Organizing this call will help generate millions of Americans and others to pray for the Supreme Court all the way through June 2022, when the decision will probably be announced.
America has committed the 4 great sins that can bring national destruction:
We have forsaken God (1962 Supreme Court Prayer case)
Shedding innocent blood (1973 Roe and Doe )
Sexual immorality on a vast scale (repeatedly)
The love of money and greed
We must repent of all these things.
There must be actual concrete ways to demonstrate turning from our sin on that day. Our suggestions would include praying in front of abortion clinics, signing The Moral Outcry Petition, helping the poor, the homeless, donating to pregnancy resource centers, committing to pray more, and committing to be more publicly vocal that abortion is a crime against humanity and offering help to those considering abortion, etc.
We encourage everyone, everywhere in America and around the world to pray as the Holy Spirit leads in accordance with your understanding of prayer and your sphere of influence. We need each denomination in America that still believes the Bible and that God hates the shedding innocent blood to stand up and cry out to the Lord.
We need to reach the 4th step of II Chronicles 7:13-14. We have prayed, we have humbled ourselves somewhat, but we have not yet turned from our wicked ways. We need to continue to confess that and see that this is the only remedy. The alternative is national or existential destruction, but if we turn, God will heal our land.
United for Christ (Endorsers)
Allan Parker, The Justice Foundation
AL and Joyce Gill, Gill Ministries
Adam Schindler, Schindler Digital
Adelle McKinney, Promise Christian University
Alexandra Snyder, Life Legal Defense Foundation
Andrew Wommack, Andrew Wommack Ministries International
Arkansas Senator Jason Rapert, National Association of Christian Lawmakers
Barbara Bucklin, Luke 4:18 Ministries
Bishop Bill Hamon, Christians International
Bob Sheets, Spirit of Life Church, Global Net TV
Bradley Mattes, Life Issues Institute
Brendan H. O'Connell, LifeMatters TV and Media Inc
Brian Gibson, Pro-Life Action Ministries
Cheryl Conrad, Survivors of the Abortion Holocaust
Christopher Hicks, Isaac TV
Chris & Carlene Leeper, 40 Days of HOPE
Clayton Trotter, Jesus Center for Repentance and Revival
Curtis Dikoff, Revival Prayer Fellowship
Cynthia Collins, Operation Outcry
Cyril & Jemima Rayan, The Potters Ministries
Dave & Kris Kubal, Intercessors for America
David & Kathy Andrade, RTV Ministries International/Global Net Television
Dave Welch, US Pastor Council
Day Gardner, National Black Pro-Life Union
Deborah Tilden, Life Victory Enterprises
Denny and Mindy Thybault, The Moral Outcry
Diane Campbell, IHOP KC
Doug Stringer, Somebody Cares
Dr. Charles Kenny, Consumer Psychologist
Dr. Che Ahn, Harvest International Ministries
Dr. Gershom Sikaala, Authentic TV
Dr. Ron Boehme, Youth with A Mission, Faith International University
Dr. Ted Baehr, Movieguide
Eric J. Scheidler, Pro-Life Action League
Ezra Kang, Jesus Awakening Movement of America
Fr. Frank Pavone, Priests for Life
Fr. Terry Gensemer, CEC for Life
Frank Amedia, POTUS Shield
Fred & Wilma Berry, Azusa Street Mission
Georgette Forney, Anglicans for Life
Greg Bondar, Family Voice Australia (Australia)
Jerry and Karen Ellard, Ambassadors for Israel Global
Jerry and Margie Bowers, Book of Acts Now Global Church
Jim Sedlak, American Life League
Jo Ann Gerling, Coalition on Abortion Breast Cancer
Jodie Pickard, Love Adelaide (Australia)
Joe Langfeld, Human Life Alliance
Jonathan Cahn, Hope of the World
Jonathan Friz, 10 Days of Prayer
Joseph Nasralla, CROSS TV
Kevin Jessip, The Return International, Global Strategic Alliance
Lewis Hogan, United Cry
Lilian Schmid, Prayer Strategy (Australia)
Lisa Stribling, Hope City KC
Lord Taylor of Warwick, House of Lords (UK)
Mark Mudri, Advocates International (Australia)
Maryal Boumann, Pray California
Mike Kingsley, World Trumpet TV & Radio Networks
Nwabuogo Okafo, Wailing Women Worldwide USA
Olga Hermann, Life Teams International
Pastor Jeff Daly, National Day of Repentance
Pastor Joseph Parker, American Family Association
Pastor Ren Schuffman, Ren Schuffman Ministries
Pastor Ruth Hillary, Shiloh Tabernacle Church
Phillip A. Jauregui, Judicial Action Group
Randy and Marcia Hekman, The Grand Awakening
Regina Minor, The Prayer Council
Richard Harris, The Truth and Liberty Coalition
Robert Wolff, Majestic Glory Ministries
Romando and Marcia Matthews, Ekballo Pasadena
Sara Ballenger, Capitol Hill Prayer Partners
Thomas Bush, Prayer Assist Ministries
Thomas C. Walker, Governor's Prayer Team
Troy Newman, Operation Rescue
Walter B. Hoye II, Issues 4 Life
Wolfgang Kovacek, HisPowerPortal & Global Net TV
Yale Kim, The Prayer Council
To be included in these events and for more information, contact [email protected]
or visit our website www.nationaldayofrepentance.org
CLICK HERE to go to the HOME PAGE – NATIONAL AND INTERNATIONAL DAY OF REPENTANCE